Depend Difference Why Depend for Incontinence
DEPEND® Adult Diaper, the No. 1 brand* in USA, has been globally established in providing bladder leakage protection and incontinence solutions.
Expertly designed for ultimate discretion and comfort, DEPEND keeps you worry free on top of its superior leakage protection that lasts up to 12 hours. Its innovative cottony-soft upper waistband surround you with superior comfort, while the seamless lower waistband securely fits just like an underwear.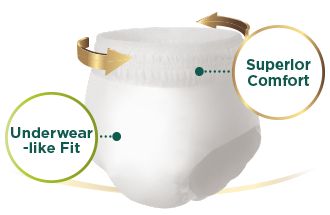 Reasons you should use DEPEND® products:
It's super fit, discreet and comfortable!
It's designed to be fast and highly absorbent to make you feel drier and fresh.
It locks odor for your confidence and unrestricted lifestyle.